Vented Cables contain power and communication wires, as well as a vent tube running the length of the cable. Vented Cables provide direct read communication from the LevelVent 5 or AquaVent 5 logger to the Wellhead. The vent tube and wires are jacketed in polyurethane, providing durability and protection. The cable is 8 mm (0.320") in diameter, while the connectors are 20 mm (0.790") in diameter.
Before the Vented Cables are shipped, the vent tubes are blown dry with nitrogen gas, and capped, to ensure no moisture during transport.
Vented Cables are custom-built to length. Lengths up to 500 feet are available.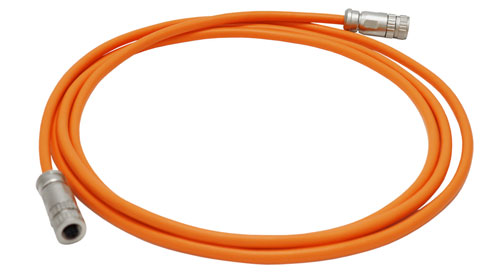 Figure 1-10 Vented Cable
Older style Vented Cables (sold before 4/16/21 with serial numbers lower than 506326) are not compatible with newer style LevelVent 5 Wellheads (sold after 4/14/21 with serial numbers 495959 and up), LevelVent 5 loggers (sold after 4/5/21), AquaVent 5 Wellheads (sold after 7/5/21), and AquaVent 5 loggers (sold after 4/5/21) without a small user modification – contact Solinst for instructions.
Newer style Vented Cables are compatible with all versions of the Wellheads and loggers – after the new Vented Cable connector is fully tightened, the external o-ring on an old logger or Wellhead is visible and it is normal not to seat against the connector.