Solinst STS Telemetry Systems provide an economical and efficient method to access remote water data instantly. They provide two-way communication between field located dataloggers and a Home Station computer. STS Telemetry Systems are designed specifically for high quality Solinst dataloggers. Up to four Solinst dataloggers can be connected to one STS.
STS Systems operate on two basic schedules. A linear "Sample Rate" is set, at which the STS Remote Station records a real-time reading from each attached datalogger. A "Report Rate" is set to establish the frequency that the data is sent from the Remote Station to the Home Station Computer. Optionally, dataloggers themselves can be set up to record and store data independently of the STS System. This provides a reliable back-up if circumstances require it.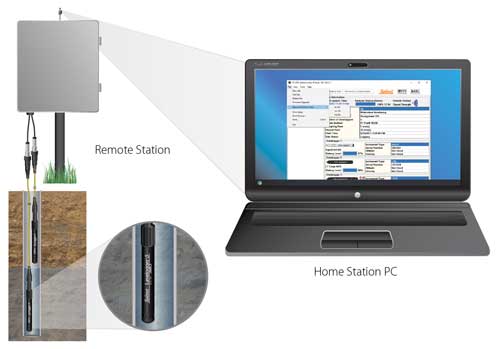 Figure 1-1 STS Remote Communication
STS Telemetry Systems can be set up using 4G LTE cellular communication. Data is 'pushed' from the STS Remote Station to the Home Station using IP (Internet Protocol), and therefore, dial-up or timing issues are not a problem. The STS stores data in its memory until it has been successfully uploaded by the Home Station computer.
There is also the option to connect an RRL (Remote Radio Link) network to your STS Remote Station.
STS Telemetry Systems come with standardized hardware options and use Solinst Telemetry Software, which allows easy setup, operation, and management of data. Features such as alarm notification, diagnostic reporting and firmware updating make it easy to maintain your system, while simplifying data collection.
This manual focuses on configuration, programming, and installation of STS Telemetry Systems using cellular communications. It includes instructions for installing and using Solinst Telemetry Software to set up data collection schedules, bridge RRL networks, manage data, perform diagnostic checks, and firmware updates.
STS Telemetry System Specifications
Enclosure Material:
NEMA 4X
Enclosure Internal dimensions:
~ 30 cm x 15 cm x 35.5 cm
IP Rating:
IP66 (dust and water proof, can not be submerged)
Operating Temperature:
-40ºC to 50ºC
Clock Accuracy:
±2 seconds/day @ 25ºC
STS Memory Capacity:
(Between Reports)
16MB
Power Source:
12 Volt, 12-30 AHr deep-cycle, rechargeable sealed lead-acid battery
Power Consumption:
Average 23 mA @ 12 V (4 Loggers with 1 hour sampling rate and 1 day data report rate)
Power Input:
10 V - 16 V DC, 15W (2 pin block terminal)
Over-current Protection:
Built-in auto-reset breaker for modem
Modem:
Digi IX20 Cat 4 North America (LTE Bands B2, B4, B5, B12, B13, B14) or, Digi IX20 Cat 4 Global (EMEA/APAC LTE Bands B1, B2, B3, B4, B5, B7, B8, B12, B13, B18, B19, B20, B25, B26, B28, B39, B40, B41).
Modem Connection:
RS-232 port configured as DTE with a DB-9 Male connector
Antennas:
700/850 MHz BLADE SMA Male
Table 1-1 STS Telemetry System Specifications