If a Mini LT or Black LTC Levelogger are connected, the 'Real Time View Only' function will be replaced by 'Last Readings'. This function will allow the user to only view the last data points recorded by the attached Levelogger

Last Readings Menu (Silver LT)

Real Time Edit Menu (Silver LT)
When 'Real Time - View Only' is selected from the Levelogger Menu, the Levelogger will take a reading immediately and display it in the LCD screen (Figure 8-2). The display will show the data logger serial number, available memory and the readings from the data logger's available channels (level, temperature and/or conductivity).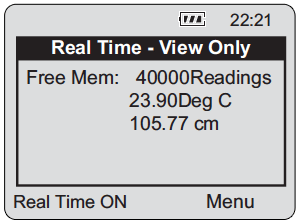 Figure 8-2 Real Time - View Only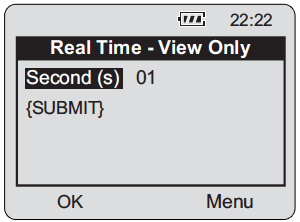 Figure 8-3 Real Time - Edit Menu
To update the Levelogger readings periodically, select 'Real Time On' using the left Chevron Button. When enabled, input a sampling rate (Figure 8-3). Select the time increments: seconds, minutes or hours and then the rate: 1-99. Real Time readings can not be saved.