After the Software has been started, the Administrator window will open. From here you can create new RRL Networks, edit existing networks, delete existing networks, and open site data.
When opening the Software for the first time, you will be prompted to the Network Setup screen before the Administrator is shown.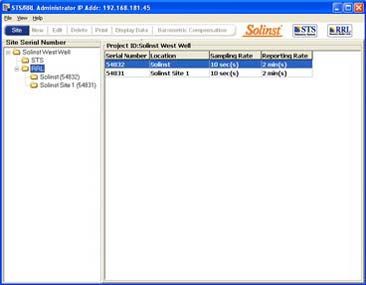 Figure 4-1
Administrator Window - Network Information
STS Gold Telemetry Sites will also be listed in the Administrator Window. See separate STS Gold User Guide for more information on STS Telemetry Systems.
The Menu on the left of the window lists each existing RRL Gold Network by its project identification and each RRL Gold Station in the network by its location and serial number (number located on each RRL unit). Selecting a network from the list will display all of the stations in the network, along with the report and sampling rates. Selecting a station from the list will display information on the Station Battery Strength, Station Signal Strength, Last Update Time and network details (including Project ID, Location, Number of Loggers, etc). Information for each datalogger connected to the site is displayed, including instrument type, and battery strength.
When setting up your RRL Gold Network, it is recommended you print each Station Information Screen for your records.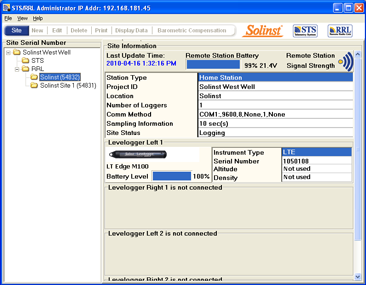 Figure 4-2
Administrator Window - Station Information
Last Update Time: Shows the last time the Home Station was contacted

Remote Station Battery: Percentage of strength left in the RRL Gold Station battery and battery voltage at the RRL Station.

Remote Station Signal Strength: Signal strength of the radio at the RRL Gold Station.

Station Type: Identifies whether the station has been programmed as a Remote Station, Relay Station, or Home Station.

Project ID: Your own identification system that you input.

Location: Specific site / location information you input.

Number of Loggers: The number of dataloggers that are connected to the RRL Gold Station.

Comm Method: Indicates the COM Port that is being used at the Home Station computer for communication.

Sampling Information: Shows the Sample Rate of the RRL Station.

Site Status: Will show the status of the RRL Station, i.e. "Logging", "Waiting for Update".