5.1.5.1 Create New User
To create a new user go to Create New User in the Navigation menu, and enter the information in the fields then click Create User. If the user needs site administration privileges, place a check next to 'Set as site admin'.
User names must be at least 5 characters long. Passwords must be at least 6 characters long. Click Create User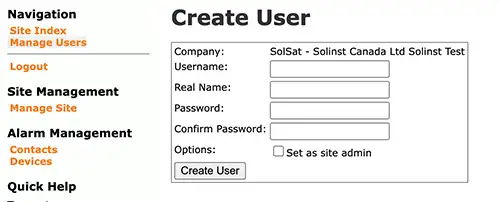 Figure 5-16 Create User
5.1.5.2 Manage Users
Go to Manage Users to make any changes to the account users. To edit a user, click 'edit' beside the user's name. To reset a user's password, click 'Reset Password'. To delete a user, click the Delete icon.

Figure 5-17 Manage Users