Already Own Leveloggers?
Add Low Cost Telemetry Today!
Eliminate going to the field to download your Levelogger data. Quickly and easily add cellular telemetry to your Levelogger monitoring wells. The NEW LevelSender is designed to connect to Direct Read Cables and Leveloggers, upgrading your current installation by adding cellular telemetry at an affordable price. The LevelSender is compact in design, and is simple to setup and maintain. Leverage your current Levelogger assets and increase your efficiency by adding a LevelSender.
Receive email or SMS notifications
Data sent to your smart device & PC
Simple setup, operation & maintenance
Low cost, compact design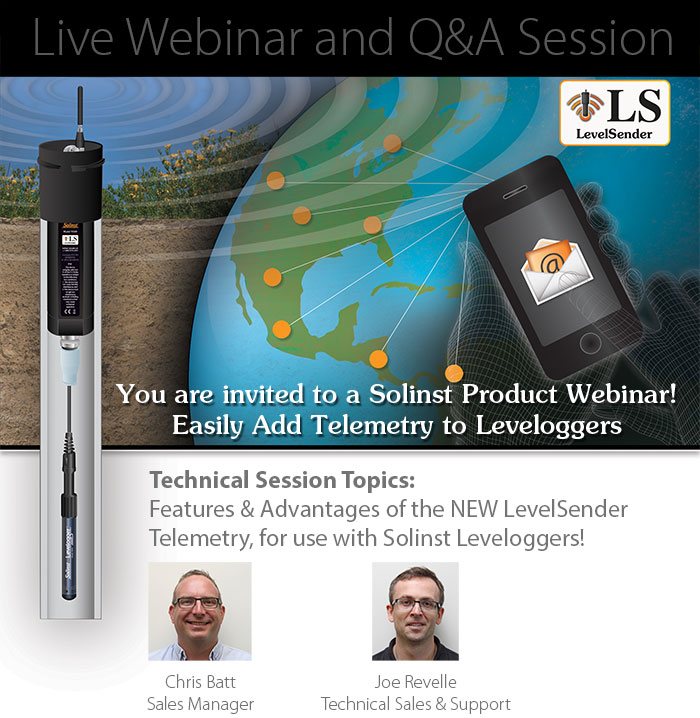 October 2016 Solinst released a new telemetry option, compatible with our Model 3001 Levelogger series of dataloggers.  We have been delighted with the interest and successful launch of this product.  To help our clients better understand the many features and advantages of this new offering we are hosting a webinar focusing just on the Model 9500 LevelSender.  This 30-minute webinar will introduce you to the components, options, hardware and software features available with the LevelSender.
Please join Solinst for a quick review of how your projects can benefit from installing LevelSenders that remotely transfer data from your Levelogger network in the field to a variety of locations by email and SMS.  All of the installation accessories, helpful hints, and useful software features will be explained.

Webinar Highlights:
Review of LevelSender components.
Summary of System Set Up.
Data Collection and Export.
Remote Communication Options.
Installation and Maintenance.
---
Q&A session to follow the webinar.
Please come prepared with questions to ask during the webinar so that we can take advantage of learning from each other during this live, interactive webinar.
---
We are offering two sessions, at differing times of day, to accommodate our clients globally.
REGISTER ON-LINE HERE for one of the two sessions offered:
August 2nd, at 4:00 PM EDT Register here (space is limited)
August 3rd at 9:00 AM EDT Register here (space is limited)
Don't miss the opportunity to find out about the great advantages of this new and convenient Telemetry option from Solinst. 
Supporting Documents
Compatible Dataloggers