Already Own Leveloggers?
Add Low Cost Telemetry Today!
Eliminate going to the field to download your Levelogger data. Quickly and easily add cellular telemetry to your Levelogger monitoring wells. The LevelSender 5 is designed to connect to Direct Read Cables and Leveloggers, upgrading your current installation by adding cellular telemetry at an affordable price. The LevelSender is compact in design, and is simple to setup and maintain. Leverage your current Levelogger 5 assets and increase your efficiency by adding a LevelSender.
Receive email or SMS notifications
Data sent to your smart device & PC
Simple setup, operation & maintenance
Low cost, compact design
Compatible with Levelogger® hardware & Direct Read Cables

Supporting Documents
Compatible Dataloggers
Related Products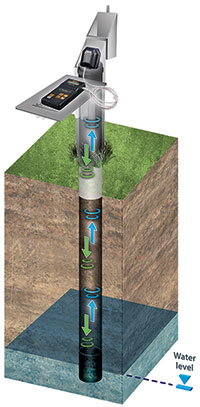 The 104 Solinst Sonic Water Level Meter is a portable, acoustic ranging instrument designed to simply and quickly provide depth to static water level measurements down to 600 m (2000 ft), without the need to lower equipment down a well. Ideal for straight, crooked, narrow, hard to access, or contaminated wells.