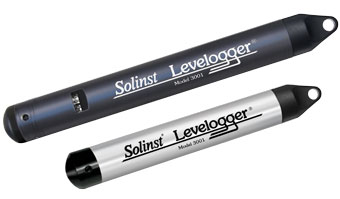 Model 3001 LTC Levelogger Edge
and Levelogger Junior Edge
The Model 3001 LTC Levelogger Edge, in addition to the Hastelloy pressure transducer and accurate temperature thermistor, has a 4-electrode platinum conductivity sensor. It is ideal for measuring water level, temperature and conductivity during:
Salt water intrusion and soil salination studies
Plume remediation projects
Leachate monitoring programs at landfills
Mine tailings monitoring projects
Water quality programs at waste disposal storage sites
Agricultural and stormwater (road salt) runoff monitoring
Water quality initiatives in watershed studies
The LTC Levelogger Edge also includes non-volatile memory for 27,000 readings of level, temperature, and conductivity, and a 8-year lithium battery. The 7/8" x 7.5" (22 mm x 190 mm) stainless steel body is coated in a Titanium ceramic PVD coating for corrosion resistance.
Levelogger Software includes a Calibration Wizard that guides the user through a 1 to 4-point calibration of the conductivity sensor, using standard solutions. The conductivity sensor autoranges from 0–100,000 µS/cm and calibrates from 50–80,000 µS/cm with an accuracy of ±1% from 5,000 µS/cm–80,000 µS/cm and the greater of ±2% or 15 µS/cm from 80 µS/cm–5,000 µS/cm. Automatic readings are linear, and can be set to record every 2 seconds to 99 hours.
The LTC Levelogger Edge is also compatible with all Levelogger communication and deployment accessories. A Barologger Edge can be used to compensate the water level readings.
The Model 3001 Levelogger Junior Edge is designed to be an inexpensive alternative for automatic, continuous water level and temperature datalogging.
The Levelogger Junior Edge operates like the Levelogger Edge absolute datalogger, but has streamlined functions. It uses the same durable Hastelloy pressure transducer as the Levelogger Edge, and is calibrated to provide 0.1% FS accuracy. The Levelogger Junior Edge comes in two pressure ranges,15 ft. and 30 ft. (5 m and 10 m). Also excellent for groundwater and surface water applications.
The sealed 7/8" x 5.6" (22 mm x 142 mm) stainless steel housing includes the pressure transducer, temperature sensor, 5-year lithium battery, and FRAM memory for 40,000 water level and temperature measurements. The Levelogger Junior Edge can be set to record linearly from 1/2 a second to 99 hours.
The Levelogger Junior Edge is compatible with Levelogger Software and accessories, including communication cables, well caps, Solinst Telemetry Systems and SDI-12 Interface Cable. Barologger Edge data can be used to barometrically compensate Levelogger Junior Edge data.