5.1.3.1 Alarm Contacts
To add a new contact to receive alarm notifications, select Contacts under Alarm Management in the Navigation menu. To create a new contact, enter a contact name into the text box and click Create Contact. To delete a contact, place a check mark next to the contacts to delete and click Remove Contact.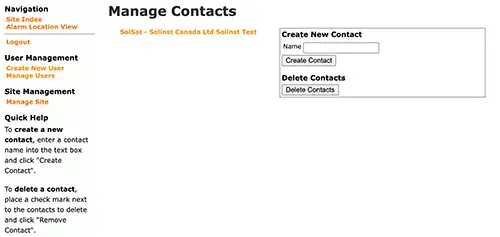 Figure 5-12 Alarm Contacts
5.1.3.2 Create Alarm
To create a new alarm or edit an existing one, go to Devices under Alarm Management in the Navigation Menu. To create a new alarm, choose one device (Location) to connect the alarm to by clicking the device on the navigation tree.
There are two types of alarms: Normal Alarms and Trend Alarms. A Normal Alarm allows you to trigger based on a single value (such as if a value is greater than 5 or less than 3). Normal alarms also allow aggregation to create alarms such as "alarm if the average value for the last 3 days is over 10 units". Trend alarms compare a current value to a previous value. A typical alarm could be "Alarm if the current reading has changed more than 5 units from the reading 7 days ago". Select the desired alarm type, then click Create Alarm. Then select the alarm from the navigation tree to complete the alarm setup.
You can copy an alarm from one device to another by going to Copy Alarms in the Navigation menu while managing your alarms.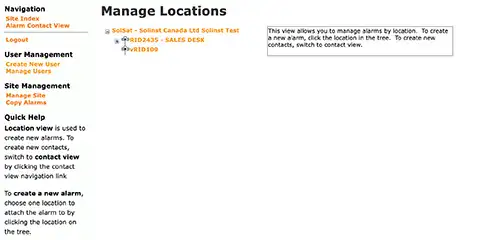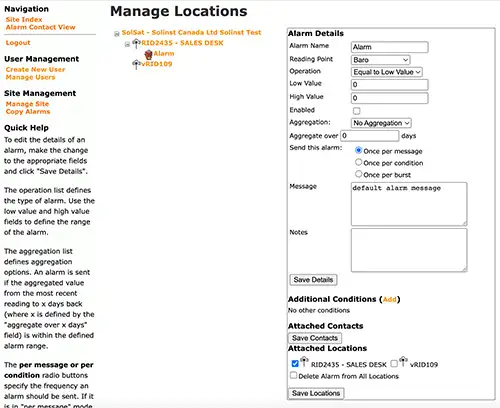 Figure 5-13 Alarm Details