Data can be exported in *.csv (comma separated value), *.xle or *.lev (Levelogger) file formats by clicking "Export Data" while viewing the site data. The *.csv file format is supported and can be imported by most spreadsheet programs, *.xle and *.lev files can be imported by Levelogger Software (only version 4.0 and up for *.xle files), where data compensations can be performed.
Clicking

will display a drop down menu where you can select to export as a *.csv, *.xle or *.lev file.
Exporting as a *.csv file will export all of the data from the selected site. You can save this file where you choose and give it a unique file name.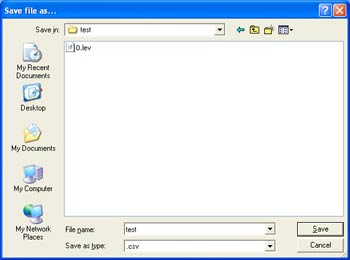 Figure 7-9 Save Exported File
Exporting as a *.xle or *.lev file, allows you to select a specific Levelogger File. Choose the desired file from the list. The file name will include the datalogger serial number, and can be saved in a folder of your choice. This file can be imported by the Levelogger Software, where barometric and other compensations can be performed. (See Levelogger User Guide for more information).