The LevelSender 5 is a simple, low cost device designed to wirelessly send data from Solinst dataloggers in the field, via 4G LTE cellular communication, to a Home Station PC, multiple emails and/or an SMS cellular phone number.
LevelSender 5 remote stations are designed to be placed in a 2" diameter well (4" with adaptor), but can also be used in other applications. Each LevelSender comes with a 2" Well Cap Assembly and a Support Hanger Bracket (see Section 6 for installation instructions). LevelSender stations are constructed from robust Delrin®, and have an IP rating of 67 (dust proof and can withstand immersion up to 1 meter depth for up to 30 minutes).
Each station includes a built-in modem, an antenna, and an LED that flashes with operation. There is a USB connection for programming the LevelSender using the LevelSender PC Software, a compartment for three 1.5V AA replaceable lithium batteries, and a SIM card slot (when ordered, Solinst SIM cards are pre-installed, activated, and ready for use—contact Solinst for plan options). An internal barometer allows barometrically compensated water level data to be reported. Each LevelSender 5 station can connect up to two dataloggers (using a splitter).
USB Cable for programming the LevelSender, and Reader Cables and Levelogger Direct Read Cables to connect to dataloggers are available separately.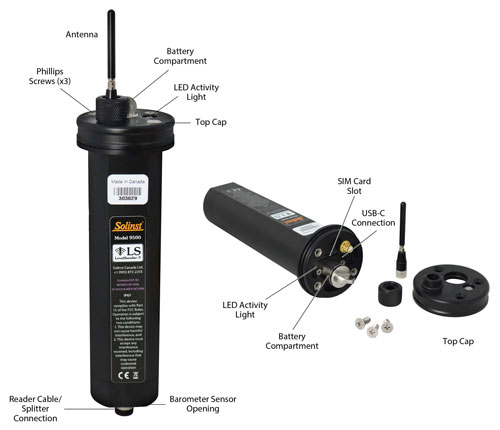 Figure 2-1 LevelSender 5 Station
LevelSender 5 Specifications
Materials:

Black Delrin, 316 stainless steel

IP Rating:

IP67

Operating Temperature:

-20ºC to 60ºC

Barometer Range:

30 kPa – 120 kPa

Barometer Accuracy:

±0.2 kPa (2 cm)

Memory Capacity:
(Between Reports)
Up to 40,000 LT logs, or 28,000 LTC logs
Size:

2.5" x 9.375" (with antenna folded down)

Weight:

16.9 oz. (478 grams)

Batteries:

3 x 1.5V AA replaceable lithium batteries (alkaline can also be used)

Antenna:

SMA Male Monopole 2dBi

Modem:

4G LTE UE Category M1 device (700/800/850/900/1700/1800/1900/2100 MHz)
Table 2-1 LevelSender Specifications
2.1.1 LED Light Identification

LevelSender is awake and performing a task.

Startup LED cycles through red, green and blue, then solid green, and then off. If there is an error, the LED will flash red three times.
2.1.2 LevelSender Antenna
The LevelSender 5 comes with a SMA male monopole 2dBi antenna. To attach the antenna:
Use a Phillips screwdriver to remove the three screws from the top of the LevelSender.
Pull off the top cap of the LevelSender.
Line up the antenna connector and screw it onto the connection on the top of the LevelSender.
With the top cap removed, see Section 2.2.1 to install the SIM card.
The antenna bends to accommodate well cap installation. The antenna for the LevelSender uses an SMA connection, therefore, you can source other antennas or an antenna cable extension with an SMA male connector, if required.
If you need to remove the top cap with the antenna already installed, you will have to loosen the antenna by its base first, and remove it along with the top cap.

Figure 2-2 LevelSender 5 Antenna