Solinst Telemetry Systems provide an economical and efficient method to access remote data instantly. They provide communication between field located dataloggers and a Home Station computer.
Solinst Telemetry Systems are designed specifically for the high quality Levelogger series of dataloggers. Up to four Solinst dataloggers can be connected to one Remote Station, in any combination of the Levelogger Edge, Barologger Edge, Levelogger Junior Edge, LTC Levelogger Edge, Rainlogger Edge, Levelogger Gold, Barologger Gold, Levelogger Junior, and Rainlogger. (See Levelogger User Guide for more information on Leveloggers).
Systems operate on two basic schedules. A linear "Sample Rate" is set, at which a Remote Station records a real-time reading from each attached datalogger. A "Report Rate" is set to establish the frequency that the data is sent from a Remote Station to the Home Station PC. Optionally, Leveloggers themselves can be set up to record and store data independently of the Telemetry System. This provides a reliable back-up if circumstances require it.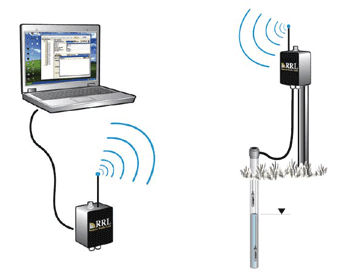 Figure 1-1 RRL System
This manual focuses on configuration, programming, and installation of Remote Radio Link (RRL Gold) Systems. It also discusses the various options to power the Systems. It includes instructions for installing and using STS/RRL Gold Software to set up data collection schedules, manage data, and perform remote diagnostic checks.