Cost effective water level & temperature datalogger
Accuracy of 0.1% FS
Increased memory of 40,000
5 year battery
1 year warranty
Compatible with Levelogger Series Software, accessories and Telemetry
For important projects with a tight budget, Levelogger Junior Edge provides a cost-effective solution for continuous water level and temperature measurement. It is simple to program with user-friendly software, and easy to deploy with Direct Read Cables or wireline/Kevlar cord and the Levelogger locking well cap. It features a Hastelloy pressure sensor, battery that lasts 5 years, and memory for 40,000 sets of readings. Accuracy is 0.1% FS with lifetime calibration. Levelogger Junior Edge is SDI-12 compatible, as is the higher accuracy Levelogger Edge.
High Accuracy; Long Battery Life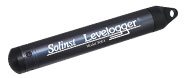 The Levelogger Edge features a Hastelloy pressure sensor with 0.05% FS accuracy, 10-year battery, schedule sampling and memory for up to 120,000 sets of readings using compressed linear sampling. Titanium based coating protects against corrosion, ideal for saltwater intrusion investigations.