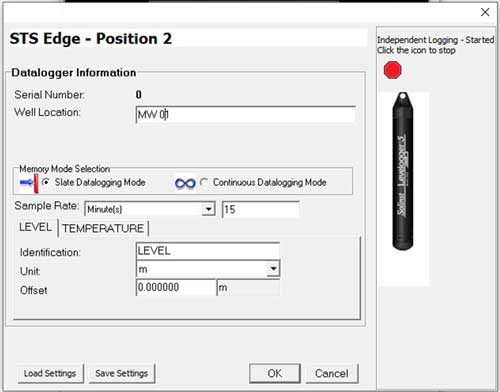 Figure 4-5 Datalogger Information Window
If you select to enter settings for a datalogger, the Datalogger Information window will open. It includes datalogger Serial Number, Well Location, Altitude and Density Adjustment (used for Levelogger Gold and Junior Models only), Sample Rate, and Memory Mode Selection.
If you do not require independent logging, select

and the STS Remote Station will only collect a realtime reading from the datalogger at the scheduled STS Sample Rate. There is no need to enter a Sample Rate.
If you want your datalogger to record and store readings in its internal memory, independent of STS operation, fill in the Sample Rate and Memory Mode Selection fields, and select

if independent logging has been stopped.
Serial Number, your datalogger Serial Number will display after the System is initialized (See Section 5.0).
Well Location, input specific site / location information.
Density Adjustment (Levelogger Gold Models only) is used to adjust the range of the Levelogger based on the sample fluid density. The range for the density adjustment is from 0.9 kg/L to 1.1 kg/L. Deselect the Density Adjustment field to disable the Density Adjustment function.
Altitude (Levelogger Gold Models only) in feet or meters above sea level, at which the logger is actually deployed, is input in the altitude field. Water column equivalent pressure decreases with altitude at a rate of approximately 1.2:1000 in the lower atmosphere below 5000 m. You can compensate for this by entering an elevation between -1000 ft below sea level and 16,400 ft (or -300 m and 5000 m) above sea level. The readings will then be automatically compensated for elevation.

Altitude and Density Adjustments are made post data collection for the Levelogger 5 and Edge Series dataloggers See the Levelogger User Guide for more details.

Sample Rate, is linear. Linear refers to a set time interval between collection of readings. The default Sample Rate is set to 15 minutes.
Memory Mode Selection, there is a choice of Continuous Logging (wrap around) or Slate Logging. In Continuous Logging, the new log is started at the end of any previous log and continues logging, eventually recording over the first logged data. As one of the download options is to 'Append Data', Continuous Logging can be a preferred choice when logging long-term. In Slate Logging, the new log is also started at the end of any previous log, but will stop recording when the memory is full, so that the beginning of the current log will not be written over.

In Slate Logging, the datalogger will stop recording readings after its memory is full. Therefore, Continuous Logging is recommended for long term monitoring applications.
Please refer to the table below for a summary of the available sampling and memory options for each datalogger type (See the Levelogger User Guide for previous version dataloggers).
Datalogger Programming Options
Datalogger Type
Linear Sampling
Memory
Battery Life
Levelogger 5/ Barologger 5


0.125 second to 99 hours
150,000 sets of readings in Slate or Continuous Mode
10 years based on 1 reading per minute
Levelogger 5 Junior

0.5 second to 99 hours
75,000 sets of readings in Slate or Continuous Mode
5 years based on 1 reading per minute
Levelogger 5 LTC

2 seconds to 99 hours
100,000 sets of readings in Slate or Continuous Mode
8 years based on 1 reading every 5 minutes
Rainlogger 5

Event Based (records tips from tippingbucket rain gauge)
Up to 100,000 tip time logs in Slate or Continuous Mode
10 years based on 2 parameters logged every 10 minutes
LevelVent 5

0.125 second to 99 hours
150,000 sets of readings in Slate or Continuous Mode
10 years based on 1 reading per minute
Table 4-1 Datalogger Programming Options