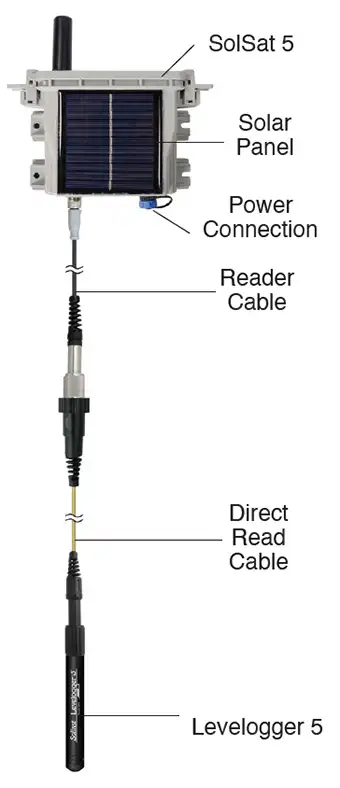 The SolSat 5 is self-contained with a pressurestabilized, weatherproof encloser for deployment in almost any water monitoring application.
A clear view of the sky is important for best performance and battery life.
The SolSat 5 comes with a USB charging cable. The 2-pin Bulgin power connection on the SolSat 5 can also be used to connect an optional solar panel (see the SolSat 5 User Guide for more details).
The SolSat 5 has an IP rating of 66, so it is dustproof and can withstand heavy rain, but can not be submerged. The operating temperature range is -20 to 55ºC.
The SolSat 5 comes with a high-performance helical antenna. It is designed to work in any situation. The antenna uses an SMA connection, therefore, you can source other antennas or an antenna cable extension with an SMA male connector, if required.
See the Levelogger and Vented Dataloggers User Guides for details on proper deployment of these instruments.