RRL Home Stations and Relay Stations require an external power supply. External power cables are connected to the RRL Station beside the antenna connection. An AC Power Adaptor comes with a battery charger and cables for connection to an AC power source. A 12 Volt External Power Cable is available for connection to a user-supplied 12 Volt battery or solar panel.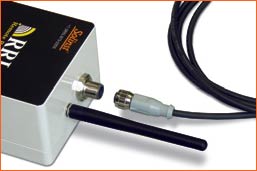 Power Cable Connection
Each RRL Station comes standard with six (6) 3.6V AA replaceable lithium batteries. To help determine if an external power supply is required at a Remote Station, the following are estimates based on the standard lithium batteries with the Radio Power setting at 1 Watt. With the Radio Power set at 100 mW, the battery life increases by about 10% of the estimates below. With six (6) 1.5V AA alkaline batteries, the battery life will be about 40% of the estimates.
Tip
Less frequent Sample and Report rates will extend the battery life of a Remote RRL Station.
If your Report Rate is 3 hours or less, an external power supply is recommended.
| | | |
| --- | --- | --- |
| Sample Rate | Report Rate | Battery Life |
| Every 5 Minutes | Every Hour | 114 Days |
| Every 15 Minutes | Every 6 Hours | 425 Days |
| Every Hour | Every 12 Hours | 680 Days |
| Every 12 Hours | Every Day | 895 Days |
| Every 15 Minutes | Every 3 Days | 810 days |
| Every Hour | Every 7 Days | 1078 Days |
| Every 12 Hours | Every 14 Days | 1200 Days |