In this step you will set up your LevelSender 5 station Sampling and Reporting Schedule.
Location: enter specific site / location information to identify each LevelSender station.
Sampling Rate: the rate that the LevelSender station collects data from the connected datalogger(s). Sampling Rate can be set from 1 minute to 99 hours.
Reporting Rate: the rate that the LevelSender station reports collected data via email/SMS. Reporting rate can be set from 5 minutes to 99 hours. With each report, the LevelSender will also check for remote updates from the Home Station. Remember to check Enable Remote Configuration in Step 3 (Section 4.2.3) of the LevelSender Setup Wizard to allow remote updates from the Home Station.

The LevelSender will use battery power each time it samples, reports, and checks for updates. As such, more frequent intervals will drain the battery more quickly. See Section 2.3.2 for battery life estimates.

Start Time: set a date and time for the LevelSender to start collecting data and send a Report.

If the start time is earlier than the current time, the LevelSender will start immediately.

Number of Dataloggers Attached: select one or two dataloggers.

If you want to set your dataloggers to record simultaneously in their own internal memory as a back-up, this can be done after setting up the LevelSender station, and going to the LevelSender Changes tab (Section 4.3). You can also use Levelogger Software to program and start your dataloggers.
Click Next to continue the setup.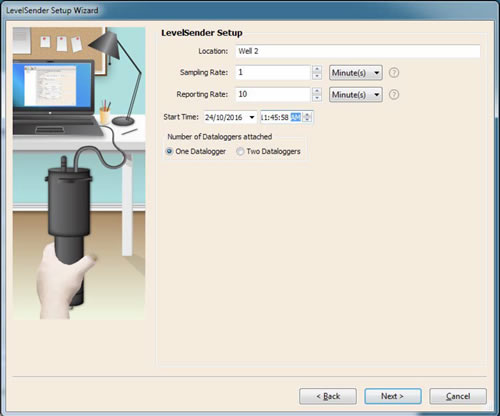 Figure 4-9 LevelSender Setup