STS Gold Telemetry Systems come with standardized equipment configurations, including your choice of communication device to meet the needs of your application. The STS Remote Station consists of an STS Gold Controller, Distribution Box, Battery, and Modem with a connected Antenna, protected within a weatherproof Nema 4X case.
The STS Distribution Box allows the connection of up to 4 data loggers. It controls the modem and manages the power supply.
The STS Gold Controller powers-up the Remote Station for initial set-up and testing. It collects, stores, and sends data from the remote dataloggers to the Home Station.
As the data is 'pushed' from the Remote Station to the Home Station, there are no dial-up or timing issues. Data cannot be lost due to cellular signal issues, as the STS Gold Controller stores the data in its memory until it has been successfully uploaded by the Home Station. With each communication, system information on battery level, Levelogger status, modem signal strength and status are sent to the Home Station, providing remote diagnostics.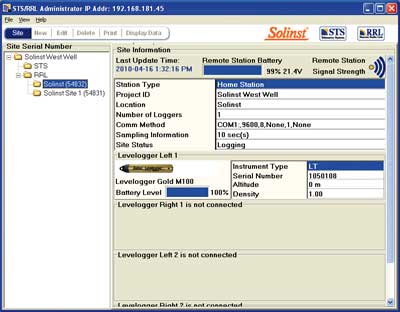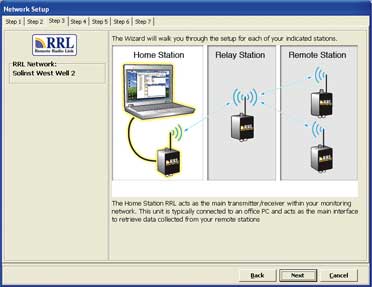 STS/RRL Gold Software Set-up Screens
STS/RRL Gold Software
STS/RRL Gold Software controls both systems, allowing users to manage a project with multiple STS and RRL sites with one program. It is easy to set up the Software with site information, sampling and reporting schedules, and alarm notifications.
A linear 'Sample Rate' is set at which the STS Gold Controller records a real-time reading from each attached datalogger. A 'Report Rate' is set to establish the frequency that the data is sent from the STS Gold Controller to the Home Station.
Each RRL Gold Station is programmed and scheduled using a convenient software wizard.
Leveloggers can be set to record independently of the Telemetry Systems and store the data in their own internal memory, providing a reliable backup, if circumstances require it.