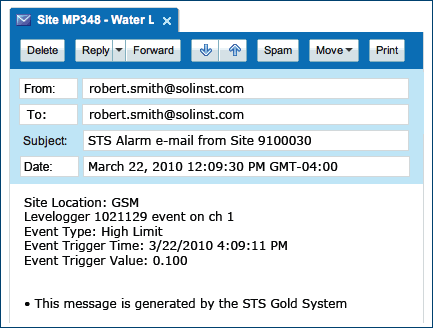 E-mail Alarm Notification
An e-mail alarm notification will be sent automatically to the Home Station, if a non-communication or low battery condition is detected at an STS Gold Remote Station, when a reading is taken. The Home Station then sends out email alerts, as set up in the software.
High, low and percent change alarms can also be set for any monitored parameter (e.g. water level, temperature, rainfall, or conductivity).
Power Supply
Solinst Telemetry Systems are designed to avoid power issues. A 12V battery is required to power the STS System. A 12-30AHr deep-cycle, rechargeable lead-acid battery is recommended. The low power electronics of an STS Gold are designed to only use power when there is a scheduled transmission of data, and very little power when it is in standby mode. Power requirements at RRL Gold Remote Stations are also kept to a minimum. Each RRL Gold Station is powered by 6 replaceable lithium batteries. Solinst provides optional cables that enable solar power or direct AC mains connnection as a power source.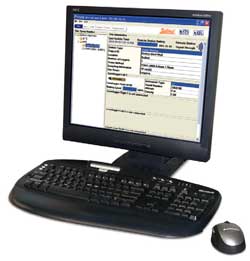 Automatically receive remote system
diagnostics at your Home Station PC
System Diagnostics
The STS and RRL Gold are very reliable systems, which require minimal maintenance.
To help simplify system diagnostics, each data report to the Home Station includes System information. This information can help prevent data disruptions by providing the battery level, modem operation, signal strength and Levelogger status. A communication test can also be performed between the Home Station and a Remote Station, and Leveloggers.
STS Gold Remote Firmware Updates
If new firmware becomes available, a firmware update can be performed from the Home Station using the update utilities supplied with the STS Gold Software. New firmware is made available free via the Solinst website (www.solinst.com/downloads/).
STS Gold Systems also allow modem parameters to be reset remotely from the Home Station and changes made to the report and sampling rates.