AquaVent 5 Datalogger
Level Sensor:
Piezoresistive Silicon with Hastelloy Sensor
Accuracy:
± 0.05% FS Typical
Stability of Readings:
Superior, low noise
Units of Measure:
m, cm, ft., psi, kPa, bar, ºC, ºF
Resolution:
0.001% FS to 0.0006% FS
Normalization:
Automatic Temperature Compensation
Temp. Comp. Range:
0º to 50ºC
Temperature Sensor:
Platinum Resistance Temperature Detector (RTD)
Operating Temperature:
-20ºC to 80ºC
Temp. Sensor Accuracy:
± 0.05ºC
Temp. Sensor Resolution:
0.003°C
Battery Life:
8 Years — based on 1 reading/minute
Clock Accuracy (typical):
± 1 minute/year (-20ºC to 80ºC)
Maximum # Readings:
150,000 sets of readings
Memory:
Slate and Continuous
Communication:
57,600 bps Solinst USB, 1200 baud SDI-12,
Modbus RS-485/RS-232 (various speeds)
Size:
22 mm x 173 mm (7/8" x 6.8")
Weight:
190 grams (6.7 oz.)
Corrosion Resistance:
Baked-on coating using polymerization
technology (inside and out)
Wetted Materials:
Delrin®, Viton®, 316L stainless steel, Hastelloy,
PFAS-free PTFE coating
Sampling Modes:
Linear, Event & User-Selectable with Repeat Mode, Future Start, Future Stop, Real-Time View
Measurement Rates:
1/8 sec to 99 hrs
Barometric Compensation:
Automatic
| Models | Full Scale (FS) | Accuracy | Resolution |
| --- | --- | --- | --- |
| M5 | 5 m (16.4 ft.) | ± 0.3 cm (0.010 ft.) | 0.001% FS |
| M10 | 10 m (32.8 ft.) | ± 0.5 cm (0.016 ft.) | 0.0006% FS |
| M20 | 20 m (65.6 ft.) | ± 1 cm (0.032 ft.) | 0.0006% FS |
AquaVent 5 SP/SPX Wellhead
Materials:
Polypropylene, Delrin, 316 stainless steel, Viton, Polyamide
Dimensions:
102 mm x 140 mm (4.0" x 5.5")
Operating Temperature:
-20ºC to 80ºC
IP Rating:
IP 64 (dust and splash proof)
Batteries:
Four (4) 1.5V AA lithium batteries
Wellhead Comm. Cable Length:
4.5 m (15 ft)
AquaVent 5 Vented Cable
Wetted Materials:
Polyurethane, Nickle plated Zinc, Viton
Diameter:
Cable: 8 mm (0.32")
Connectors: 20 mm (0.79")
Lengths:
1 to 500 ft
Max. Bend Radius:
25 mm (1")
Operating Temperature:
-20ºC to 80ºC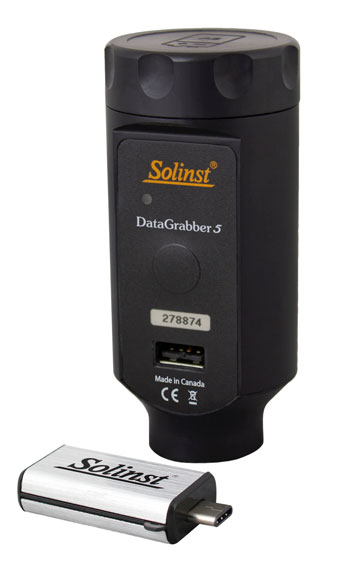 The DataGrabber 5 is a field-ready data transfer device that allows you to copy data from an AquaVent 5 onto a USB flash drive key, with one push-button (dual USB & USB-C key provided). The DataGrabber 5 is compact and very easy to transport.


The LevelSender 5 is a simple, low cost telemetry system designed to send data from dataloggers in the field, to your smart device and PC database via cellular communication. LevelSender 5 stations are compact in design, which allows them to be discreetly installed inside a 2" (50 mm) well. (see Model 9500 LevelSender 5 data sheet).

The STS 5 Telemetry System provides an efficient method to send water level data from the field to your desktop. Cellular communication options give the flexibility to suit any project. STS 5 Systems are designed to save costs by enabling the self-management of data. Alarm notification, remote firmware upgrades and diagnostic reporting make system maintenance simple (see Model 9100 data sheet).

The RRL 5 Remote Radio Link is ideal for closed-loop, short range applications up to 30 km (20 miles). The RRL 5 can be linked to an STS 5 telemetry station to change from a closed-loop telemetry system to one which can be accessed from anywhere through internet connectivity (see Model 9200 data sheet).
®Solinst and Levelogger are registered trademarks of Solinst Canada Ltd.
™DataGrabber is a trademarks of Solinst Canada Ltd.