AquaVent 5 Datalogger
Level Sensor:
Piezoresistive Silicon with Hastelloy Sensor
Accuracy:
± 0.05% FS Typical
Stability of Readings:
Superior, low noise
Units of Measure:
m, cm, ft., psi, kPa, bar, ºC, ºF
Resolution:
0.001% FS to 0.0006% FS
Normalization:
Automatic Temperature Compensation
Temp. Comp. Range:
0º to 50ºC
Temperature Sensor:
Platinum Resistance Temperature Detector (RTD)
Operating Temperature:
-20ºC to 80ºC
Temp. Sensor Accuracy:
± 0.05ºC
Temp. Sensor Resolution:
0.003°C
Battery Life:
8 Years — based on 1 reading/minute
Clock Accuracy (typical):
± 1 minute/year (-20ºC to 80ºC)
Maximum # Readings:
150,000 sets of readings
Memory:
Slate and Continuous
Communication:
57,600 bps Solinst USB, 1200 baud SDI-12,
Modbus RS-485/RS-232 (various speeds)
Size:
22 mm x 173 mm (7/8" x 6.8")
Weight:
190 grams (6.7 oz.)
Corrosion Resistance:
Baked-on coating using polymerization
technology (inside and out)
Wetted Materials:
Delrin® , Viton® , Polyurethane (TPU boot), 316L stainless steel, Hastelloy, PFAS-free PTFE coating
Sampling Modes:
Linear, Event & User-Selectable with Repeat Mode, Future Start, Future Stop, Real-Time View
Measurement Rates:
1/8 sec to 99 hrs
Barometric Compensation:
Automatic
| Models | Full Scale (FS) | Accuracy | Resolution |
| --- | --- | --- | --- |
| M5 | 5 m (16.4 ft.) | ± 0.3 cm (0.010 ft.) | 0.001% FS |
| M10 | 10 m (32.8 ft.) | ± 0.5 cm (0.016 ft.) | 0.0006% FS |
| M20 | 20 m (65.6 ft.) | ± 1 cm (0.032 ft.) | 0.0006% FS |
AquaVent 5 SPX Wellhead
Materials:
Polypropylene, Delrin, 316 stainless steel, Viton, Polyamide
Dimensions:
102 mm x 140 mm (4.0" x 5.5")
Operating Temperature:
-20ºC to 80ºC
IP Rating:
IP 64 (dust and splash proof)
Batteries:
Four (4) 1.5V AA lithium batteries
Wellhead Comm. Cable Length:
4.5 m (15 ft)
AquaVent 5 Vented Cable
Wetted Materials:
Polyurethane, Nickel plated Brass, Viton
Diameter:
Cable: 8 mm (0.32")
Connectors: 20 mm (0.79")
Lengths:
1 to 500 ft
Max. Bend Radius:
25 mm (1")
Operating Temperature:
-20ºC to 80ºC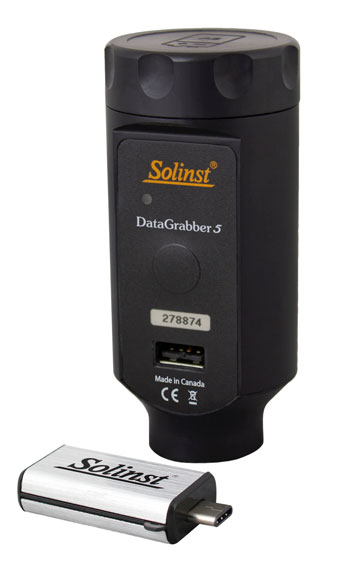 The DataGrabber 5 is a field-ready data transfer device that allows you to copy data from an AquaVent 5 onto a USB flash drive key, with one push-button (dual USB & USB-C key provided). The DataGrabber 5 is compact and very easy to transport.

Versatile Submersible Water Level Transmitter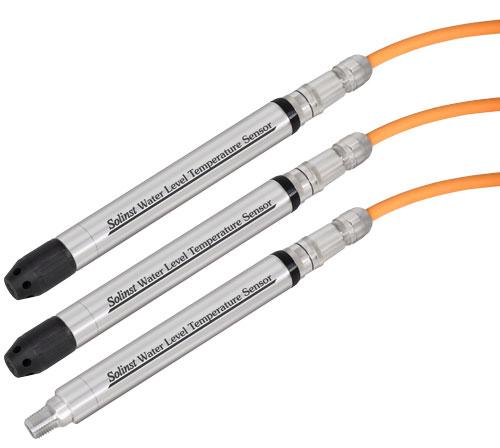 Solinst also offers the Model 301 Water Level Temperature Sensor for communication using MODBUS or SDI-12 interchangeably as required. It provides continuous, stable water level and temperature transmission with options for vented and absolute pressure sensor setups. The Water Level Temperature Sensor is easy to integrate into existing monitoring systems, e.g. SCADA or PLC, and can be used to measure hydrostatic liquid levels long-term in industrial, municipal, and environmental applications (see Model 301 WLT Sensor data sheet).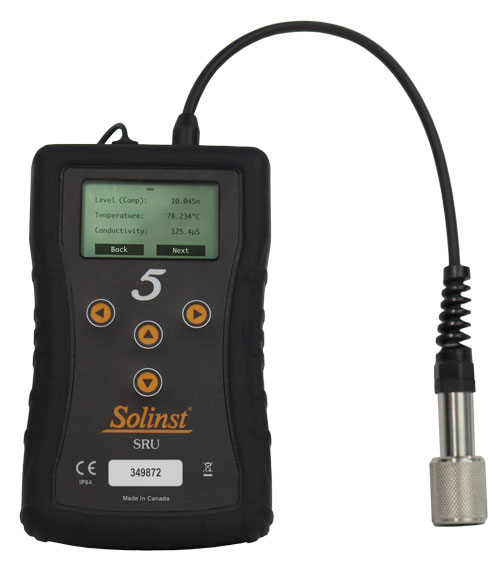 Connect an SRU to an in-field AquaVent 5 using a Wellhead Communication Cable to display instant water level readings and datalogger status, save a real-time logging session, and download data to the SRU memory.
®Solinst and Levelogger are registered trademarks of Solinst Canada Ltd.
™DataGrabber is a trademarks of Solinst Canada Ltd.