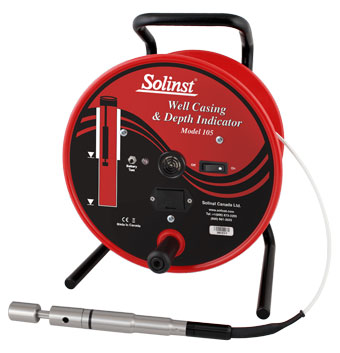 The Model 105 Well Casing & Depth Indicator uses one probe to allow both the detection of metal well casing and measurement of total well depth.
The 105 Probe is made from 316 stainless steel and is submersible up to 500 m (1650 ft.). It contains a strong magnetic assembly to detect metal (e.g. steel) well casing. When the probe is adjacent to magnetic casing a circuit is completed activating the buzzer and light. When the probe is no longer next to the casing, the intermittent signals stop. Well casing detection produces a faster signal compared to the slower signal for total well depth.
A plunger at the bottom of the probe is used to measure total well depth. The light and buzzer activate when the plunger reaches the bottom of a well and is pushed into the probe body completing a magnetic circuit.
Well casing and well depth measurements are read from durable Solinst laser-marked flat tape. Lengths are available up to 600 m (2000 ft.), accurately marked each millimeter or every 1/100 ft.

Well Casing & Depth Indicator Applications
Measuring total well depth
Groundwater well installation
Detecting cracks in well casing
Installing telescoping well screen
Packer and downhole instrument installation
Hydrofracturing
Confirming existing well construction
Decommissioning abandoned wells
Standard Length Options:
Small Reel
30 m
100 ft.
60 m
200 ft.
100 m
300 ft.
Medium Reel
150 m
500 ft.
250 m
750 ft.
300 m
1000 ft.
Large Reel
400 m
1250 ft.
X-Large Reel
500 m
1650 ft.
600 m
2000 ft.

LM2: Feet and tenths: with markings every 1/100 ft.
LM3: Meters and centimeters: with markings every mm