The Model 101 P2 and P7 Water Level Meters provide the convenience, durability and accuracy that groundwater professionals need to detect water levels in wells, boreholes and standpipes.
Ergonomically designed, they feature two non-stretch flat tape options, two probe options, sturdy frame and reel, robust electronics, easy-access battery drawer, and complete unit reparability.
The Water Level Meters are powered by one 9V battery. The light and buzzer are activated when the probe reaches water, completing an electrical circuit. They include a sensitivity dial that can be turned down when in cascading water.
The 101 P2 features heat embossed polyethylene tape (M2 and M3), available in lengths up to 1000 ft. (300 m). The 101 P7 however, uses durable Solinst laser-marked PVDF tape (LM2 and LM3), and is available in length up to 5000 ft. (1500 m). Both tapes are marked accurately every 1/100 ft. or each millimeter, certified traceable to national standards.
The P2 Probe is designed to detect water level, while the pressure-proof P7 Probe can also be submerged to 1000 ft. (300 m), to measure total well depth.

Small Reel

*

100 ft.
30 m

*

200 ft.
60 m

*

300 ft.
100 m
Medium Reel

*

500 ft.
150 m

*

750 ft.
250 m

*

1000 ft.
300 m
Large Reel
1250 ft.
400 m
1650 ft.
500 m
2000 ft.
600 m
* Polyethylene tapes are only available in these lengths

M2: Feet and tenths: with markings every 1/100 ft.
M3: Meters and centimeters: with markings every mm

LM2: Feet and tenths: with markings every 1/100 ft.
LM3: Meters and centimeters: with markings every mm
A Tape Guide prevents damage to the tapes and cables, and provides a consistent measurement point.

Model 101B Water Level Meter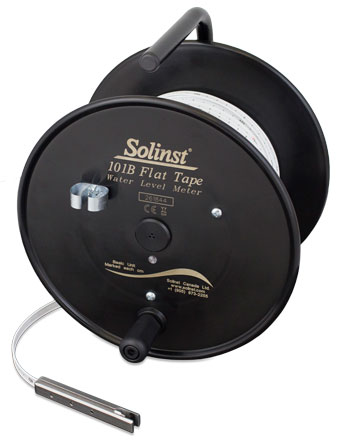 The Model 101B Water Level Meter features a basic design that is very simple to use. A buzzer and light are activated once the P1 Probe contacts water - there are no controls or buttons to operate.
The robust stainless steel P1 Probe is leak-proof. It is attached to heat embossed polyethylene flat tape. The flat tape is accurately marked each centimeter, in lengths up to 100 m.
The Model 101B Water Level Meter has a durable frame with a sturdy handle that makes winding the tape easy. A brake is included on the frame.
There is a convenient probe holder on the front of the faceplate. The 9V battery that powers the Water Level Meter is easily replaced inside the reel housing.
Length Options: Small Reel 30 m, 60 m & 100 m

CM3: Meters and tenths: with markings every centimeter.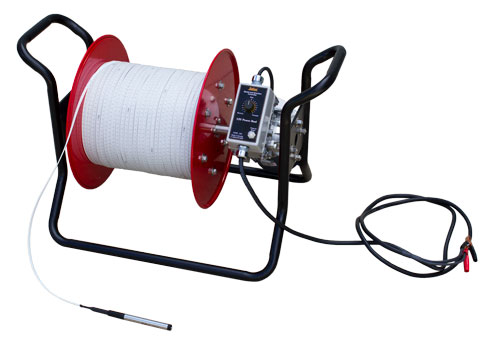 Power Reels for Water Level Meters can be very useful. They allow faster and less strenuous operation of meters with longer tape lengths, up to 5000 ft. (1500 m). Reels are available with 110V, and 12VDC motors on request.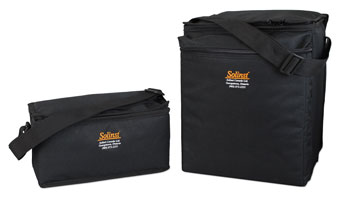 Carrying Cases for Water Level Meters are available in mini, small and medium sizes. They are nylon and padded for extra protection. The small and medium cases have a convenient front pocket. All cases feature a grommet in the bottom to prevent moisture build-up and a carrying strap.