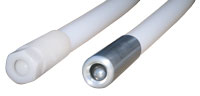 The Model 404 Inertial Pumps are a simple and inexpensive option for groundwater sampling, purging and monitoring well development. Pumps are able to handle very silty water. They are ideal for dedication.
The Inertial Pump consist of a length of riser tubing, LDPE or PTFE, with a one-way footvalve connected to the end. Various diameters are available, and stainless steel or Delrin® footvalves are offered. Sizes range from a Mini 1/4" (6 mm) OD Inertial Pump to a 1" (25 mm) OD Delrin footvalve. The sizes allow options for 0.4" - 6" ID wells. When operated by hand, depths of 100 ft. (30 m) can be reached.
The 1/4" (6 mm) OD Mini Inertial Pump (MIP) is made for sampling from the narrow channels of a Solinst Model 403 CMT System.
Model 404 Inertial Pump Specifications
Pump Assembly
Footvalve
Footvalve Dia.
Tubing Selection
403 MIP
1/4" (6 mm)
1/4" x 0.17"
(10 mm x 6 mm)
D16
5/8" (16 mm)
5/8" x 1/2"
16 mm x 12.5 mm)
SS16
5/8" (16 mm)
5/8" x 1/2"
(16 mm x 12.5 mm)
SS19
3/4" (19 mm)
5/8" x 1/2"
(16 mm x 12.5 mm)
D25
1" (25 mm)
5/8" x 1/2"
(16 mm x 12.5 mm)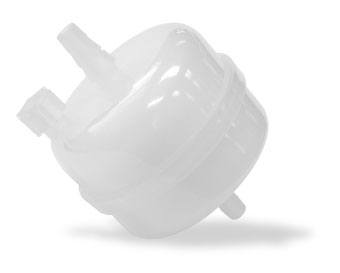 The Model 860 Disposable Filters meet filtration requirements and provide a quick and safe method for preparing groundwater samples for metals analysis and for filtering large volumes of turbid water. They have 650 cm2 of effective filtration area and use a 45 μm membrane. The polypropylene filter is disposable, saving the need to decontaminate or replace filter discs. The filters have a 3/8" (9.5 cm) hose barb inlet and outlet, and a 1/8"NPTM vent/drain connection.
®Delrin is a registered trademark of DuPont Corp.