The Model 410 Peristaltic Pump is made for field use, as it is robust, water-resistant, and simple to use and transport.
For added convenience, it uses alligator clips with a 12 ft. (4 m) power cord to connect to a 12V DC power source to operate, such as a car battery. The pump has an easy to reset circuit breaker, and reverse polarity protection to prevent damage to the pump.
It provides vacuum pumping and pressure delivery of liquids and gases, up to the suction lift limit, which could be as much as 33 ft. (10 m) at sea level. It is ideally used to sample shallow groundwater and vapors in wells and Solinst Model 615 Drive-Point Piezometers.
Model 410 Peristaltic Pump Specifications
Pump Size
13"x 5"x 6-1/2" (33 cm x 13 cm x 17 cm)
Pump Weight
7.2 lbs (3.3 kg)
Power Source
12 volt DC
Power Draw
3 - 5 amps max.
The Peristaltic Pump has one control that allows reversible flow and variable pumping rates. It can be fitted with 2 different sizes of silicone pump-head tubing. The standard 5/8" OD (16 mm) tubing delivers from 120 ml/min to almost 3.5 L/min.
The optional 3/8" OD (10 mm) tubing adaptor kit allows sample rates as low as 40 ml/min and up to 900 ml/min, ideal for low flow sampling and filling smaller sample bottles.
The Peristaltic Pumps' reversible flow is perfect for back flushing and sampling when using a Solinst Drive-Point Profiler.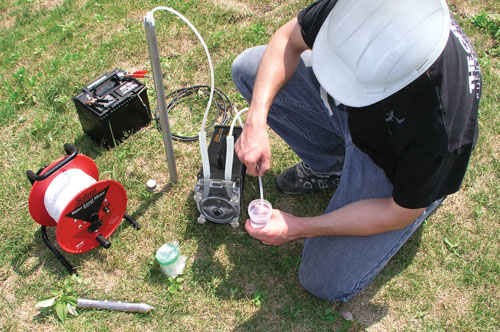 Solinst Peristaltic Pump Being Used to Take a Groundwater Sample from
a Solinst Model 615 Drive-Point Piezometer