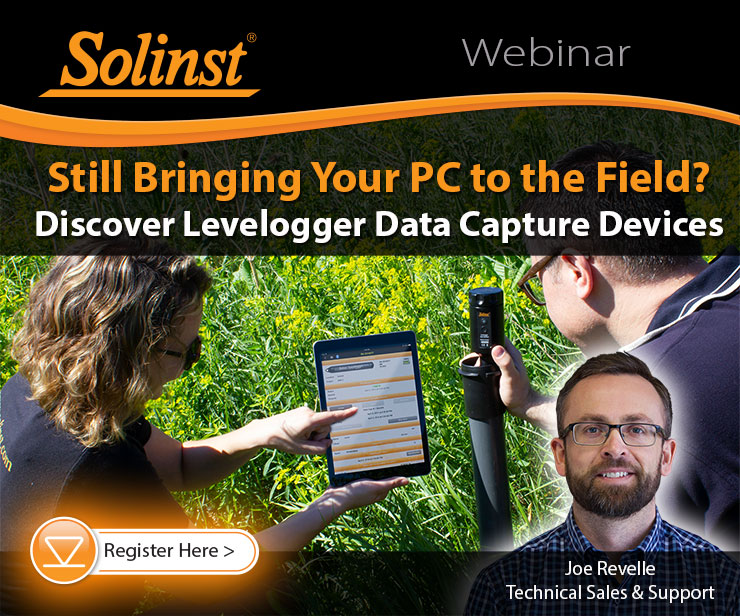 You are invited
Join Solinst for a Webinar Event.  Joe Revelle will teach you about the benefits of the Solinst DataGrabber and Levelogger App Interface devices, that are designed to make your life easier when retrieving data in the field.
Retrieve Important Data in the Field without a Laptop!
DataGrabber:
Are you tasked with routine Datalogger data collection? See how this compact data retrieval device is the only tool needed!
Watch us demonstrate hardware connection options.
And Conveniently Program Solinst Dataloggers
Levelogger App Interface:
Harness the power of your Apple IOS or Android Phone/Tablet smart device!
Watch us demonstrate key App Interface benefits including:


Intuitive touchscreen datalogger setup
Instantly viewing real-time readings wirelessly.
Manage multiple Dataloggers and Data Files.
E-mailing data files from field straight to office.
Calibrate LTC Leveloggers on your phone.
Run Datalogger diagnostics without a PC computer.
---
We are offering instant on Demand Access !
---
We hope that you will be able to join us. Feel free to circulate this invitation to anyone who may benefit.
Chris Batt
Sales Manager
Solinst Canada Ltd.
800-661-2023 ; 905-873-2255 ext 274
[email protected]