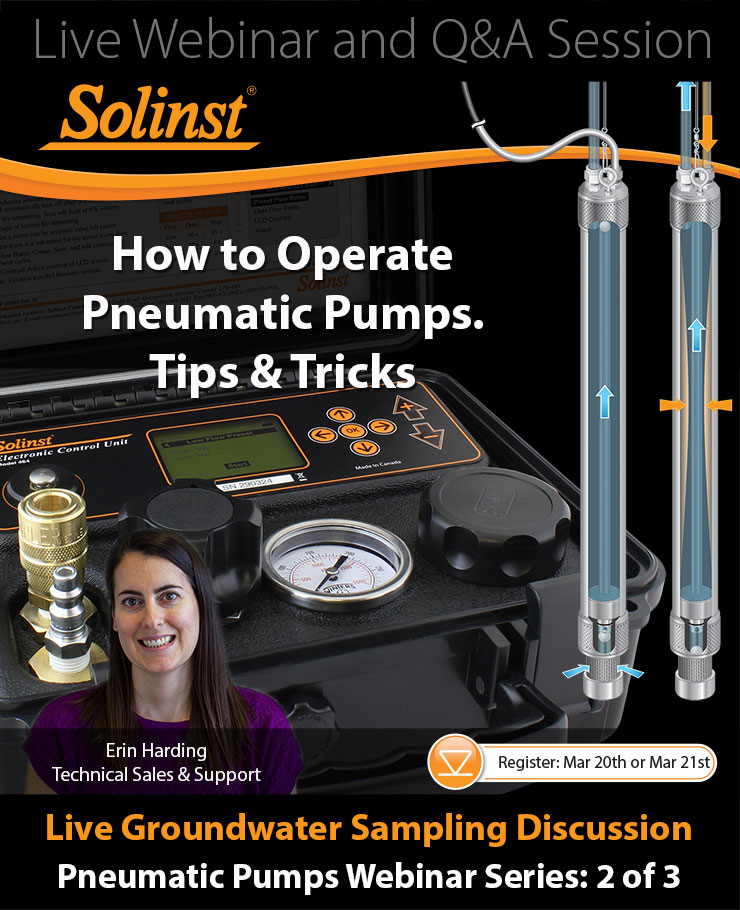 Groundwater Sampling Made Easy
You are invited to join Solinst on a Live Webinar, where Erin Harding and Susan Loit will be demonstrating how to operate Solinst Pneumatic Sampling Pumps. This is the second of three webinars in our pump webinar series.
Pneumatic Pump Webinar Series Overview
Webinar 1: How to Select the Best Pump for You (completed)

Required: Get Your Questions Answered Live On The Webinar:
For this webinar, we are asking everyone to send us your questions ahead of time so we can be prepared to answer the questions and offer any tips that are tailored to your unique situation. A link to the question request form will be sent with your webinar registration email.
Webinar Outline: How to Operate Sampling Pumps, Tips & Tricks
How to Sample - Sampling Scenarios and Calculations
How to sample with Bladder Pumps & Double Valve Pumps

Complete groundwater sampling system overview & best practices
Tips and Tricks - How to obtain high quality representative samples
We are offering two 30-minute sessions followed by live Q&A.
---
We hope that you will be able to join us. Feel free to circulate this invitation to anyone who may benefit.
Chris Batt
Sales Manager
Solinst Canada Ltd.
800-661-2023 ; 905-873-2255 ext 274
[email protected]m