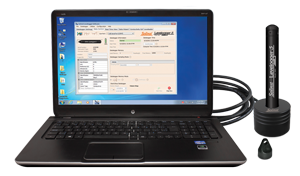 Staying true to our commitment to continually improve our products, the Levelogger 5 brings over 20 years of engineering and design experience with it. Everything about the Levelogger 5 is focused on providing high-quality, reliable water level data—with the accuracy and ease-of-use expected from Solinst.
The Levelogger 5 features a more robust design, with double-sealed housing construction using high-grade 316 stainless steel. The Faraday cage design protects against lightning and power surges, and the PFAS-free PTFE coating (inside and out) gives extra corrosion resistance.
A redesigned optical interface offers improved datalogger connectivity with communication accessories and Solinst Levelogger Software. The friendly and streamlined software provides many sampling and data compensation options, including barometric compensation of multiple Levelogger files simultaneously. The Barologger 5 provides the fastest and easiest method for barometric compensation.
The Levelogger 5 has high-accuracy of 0.05% FS with a durable Hastelloy pressure sensor. An increased memory of 150,000 sets of water level and temperature readings allows for longer, uninterrupted monitoring applications and higher resolution data with more frequent readings. Battery life is up to 10 years, based on recordings every minute.